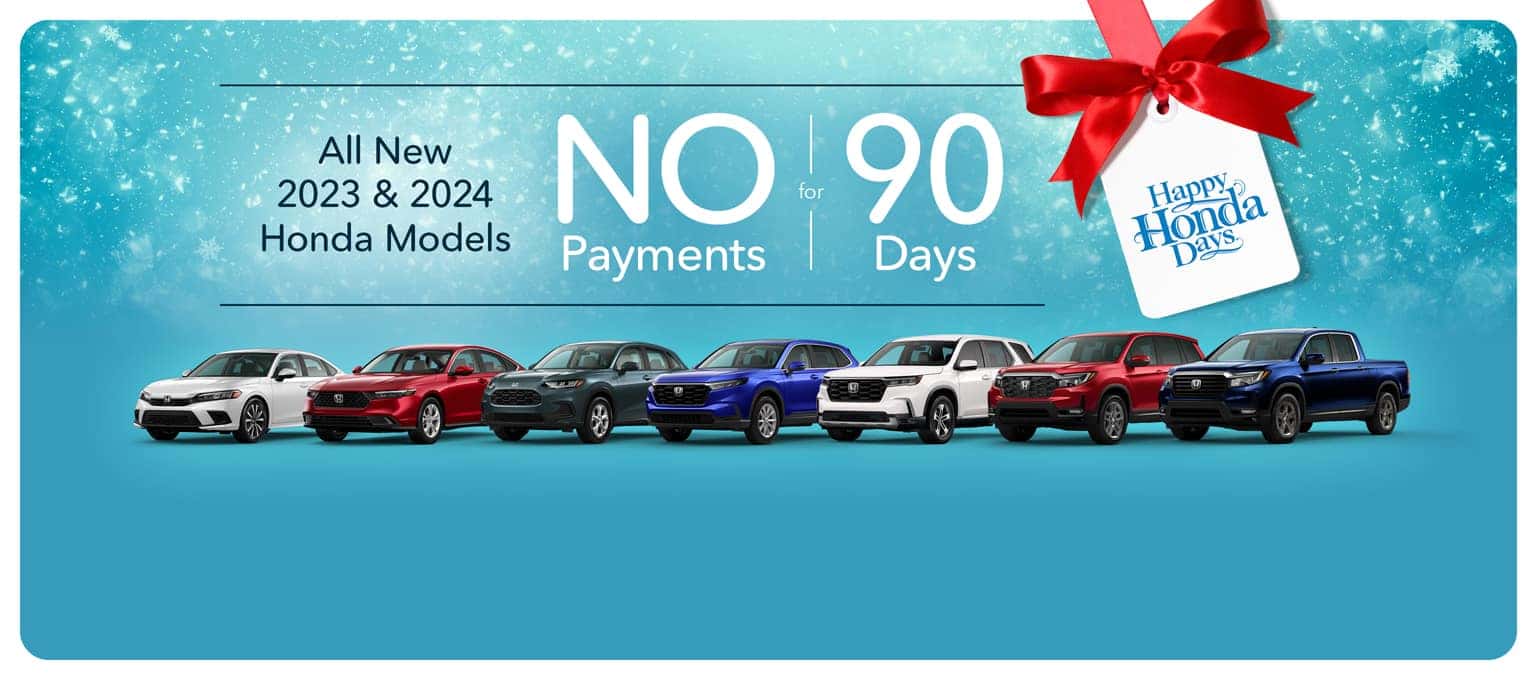 Deferred payment on the purchase of all new 2023 and 2024 Honda models. Excludes Civic Type R and Si models. For well-qualified buyers, Tiers 1-8 eligible. IGS tiers 9-14 do not qualify. Subject to availability through 1/2/24 on all new and unregistered Honda models on approved credit through Honda Financial Services. 90 days to provide first payment. During the deferment, interest will accrue 60 days after the contract date. Finance charges will accrue on the full amount financed during deferment. Not eligible with HFS 90 Day Program Protection. See participating dealers for full details. Residents of Florida and Pennsylvania only.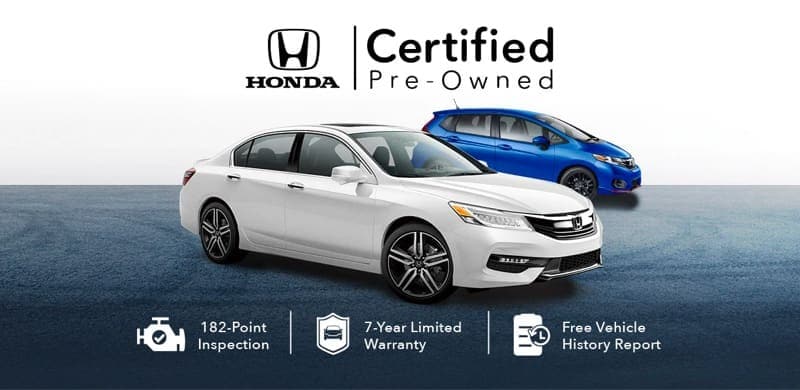 Certified Pre-Owned
Nothing compares to the quality of a Honda. No other program comes close.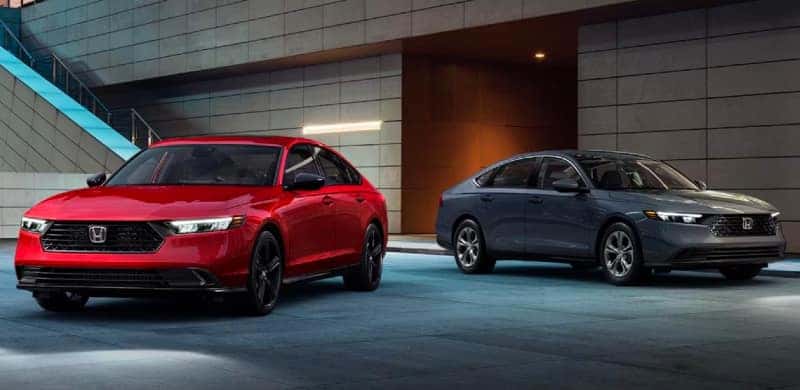 Current Offers
See this month's featured current offers going on now on new Honda vehicles.
Our Reviews
This is what business is supposed to be like! Winter Haven Honda gave me a good competitive deal on a 2019 Ford Expedition they had advertised. They, made it a quick and painless transaction. The salesman, Moose (Mustapha Gawad), was exceptional and went above and beyond. Here's why: Within minutes of my inquiry over the Internet, Moose was on FaceTime showing me every detail, including minor imperfections, the car history/Carfax, etc. He wrote up the Out-the-Door proposal to show me all costs…and within two days I was on a plane to pick up the vehicle. The Dealership picked me up with their own driver at no cost to me. When I arrived, the vehicle was everything portrayed, and again Moose and The Dealership were expeditious. I asked if Moose could track down the extra key FOB from the previous owner, since it was not turned in when it was sold to the Dealership. Moose personally engaged the previous owner and not only obtained the extra key FOB, but obtained some other extras as well from the previous owner, and sent all this to me in the mail. Fantastic…go-beyond engagement from Moose! In today's upside down world, full of slouchy service with more and more people who simply don't care, here is an outstanding example of the way every customer wants to be treated….that is with respect, courteousness, quickness, honesty, getting a fair deal, and, actually doing things above and beyond what the customer expects. This is what Moose and Winter Haven Honda Delivered. Thank you Moose and Winter Haven Honda.
We purchased a car from Bryan Irizarry who is a Sales Rep for Honda and did a great job in helping us find a car suited for us.. He was very cordial and honest with us. We highly recommend him to our family and friends or anyone that is in need of a car. He is very knowledgeable and friendly. You can find Bryan at Winter Haven Honda.
Had 5 maintenance lights come on all at once when I was in Winter Haven last week. I figured there was no better sign than this to stop and get my Honda Pilot checked out. Pulled in to Winter Haven Honda around 3 pm and was greeted by John Tyler, their General Sales Manager. He got me right over to one of their service advisors, Fabian Tirado. He was outstanding to work with from start to finish. It was no problem to get me in without an appointment and he quickly shared with me what each of the service lights meant and exactly what it would cost me to get everything fixed. He also identified several open recalls and assured me that they could get them taken care of within a few hours, too. Their customer lounge was a great spot. Lots of complimentary drinks and snacks and they even had a private area where I could knock some work out while I waited. Fabian kept me up to date as my vehicle moved through the steps and they were able to get me back on the road in under 2 hours. Pretty impressive for an improptu stop with no appointment. NOTE: I have made appointments at other dealerships in the past for just a simple oil change and had to wait for hours for them to complete the work, so this was a welcome surprise. Thanks again Fabian and the Winter Haven Honda Service Team. Outstanding Job!!!
Moose Gawad (Salesman) & Stephen Petrocheli (Finance)! First time I left a dealership not feeling scammed or regretful thanks to these 2 guys! Would definitely negotiate with them again and recommend them 1000% if your in the area!
Went in to buy a car for our daughter. Left with a car for her as well as a car for me. Moose was our sales guy and I'm not exaggerating when I say this was the best car buying experience we have ever had. He doesn't haggle and play games. He is straight up and genuinely trying to get you what you want. It was so refreshing. Will definitely be going back to him for future cars!!!
Moose was an AMAZING 🤩 sales person and informative courteous professional HONEST HIGHLY RECOMMENDED HIM. Dealership experience was BEST WE EVER HAD IN OUR LIFE. 🙏🙏🙏🙏👍👍👍👍
The Sales Person Bryan was awesome. Winter Haven has the better deals in the area.
Recently I purchased a car from Honda. Two months later sales German Candelaria its the best very attentive
I am from Georgia. I was looking for a red 2022 Honda Civic Si. At the time of contact, I spoke with German. He said the dealership didn't have one but one was on order and on its way and he would keep my information for when it comes in. When I hung up the phone I figured that would be it and would never hear from the again. Around a week later, I received a call from German stating the car JUST hit the ground and asked if I was still interested. He immediately went to work for me and this transaction was done within a few hours. Finance manager overnighted the paperwork to me and the vehicle was mine. Several days later I flew from Atlanta into Orlando and the dealership had someone there waiting for me. Super nice guy! When I arrived at the dealership, everyone was extremely friendly an went above and beyond to make sure I was comfortable. Going over the car took longer than the remaining paperwork. I would recommend purchasing from this dealership a million times over. I couldn't have asked for a better experience.
Buying a vehicle with Mostafa was easy and enjoyable experience. He went above and beyond for me. I highly recommend him and Winter Haven Honda!
Recently I purchased a car from Honda. Two months later I was pulled over and their was some confusion over the plates and Amy Gonzalez and the staff went above and beyond to resolve everything for me which speaks highly of the integrity of the dealership. When looking for a new car its important to have people who look out for your interests. I'm thankful to have them to come alongside me and resolve this!!! You should be in good hands if you go there.
Very friendly and expert sales staff. We had no problems.
I've read some some of the reviews, my experience was outstanding with Tracy and the service department, I got exactly what I needed on my timeline, thank you Tracy I will be back and end of month hope to see you soon ( even though your a yankee lol ) now as far as waiting for my car I was approached by a sales person and asked for a car price on a ford Taurus he responded with " I will check " he never came back and tended to another customer so to that I give a big fat 0 star, that's not how you treat a retired army purple heart vet. Other than that Hey Tracy!!!
Justin Funes, salesman, I give him 5 stars. We had a budget, and he took the time to find me the car that fit my budget. He was patient and a pleasure to do business with. Also Bob in finance was great and did not pressure us to add on any packages. I highly recommend going to Winter Haven Honda and ask for Justin.
I was very pleased with the assistance I received from Michael, he helped me buy a used car with no stress. No one in town would help me with my very isolated situation but he made It happen for me. I would recommend Michael Lopez if you want honesty and consideration.
Wonderful experience! Winter Haven Honda worked quickly and efficiently with me over the phone and through email and texts to get just the vehicle I wanted at an excellent price. Then, they delivered it to me and picked up my trade-in, even though I am more than 60 miles away. This was very important to me since I am in an at-risk category for COVID -19. Excellent!
We had a great experience at WH Honda. Rodney did above and beyond for us . Finance was very nice but professional at the same time. We would consider coming back or sending potential customers to you.
George was my sales person helped me put together the deal that I wanted. Just bought a 2020 CRV. People in the finance department were very easy and helpful to work with.
Good dealer excellent vendor n excellent place work good for costumes good equipment n excellent mechanics shop all personal its excellent n good deals n costumer happy
They gave us a great deal on our New Cr-V ask for George. He was very knowledgeable and helpful. Will definitely return if we decide to upgrade again.
For three days, I negotiated with 6 Honda dealerships across 3 counties, incl. Michael Lopez from Winter Haven Honda. As an educated consumer, I can't really use the term "wasted", but I can say that I delayed the process of purchasing my 2019 Honda Accord by 2 days & about 23 hours. Mike was readily available by phone (my preference), text & e-mail. He treated me like a person, never condescending & always professional, knowledgeable & straight-forward; incl. fact-checking if he wasn't 100% sure about something (which only applied to a detail or 2). He sent pictures & was true to every word he spoke. Upon arriving & going through the purchasing process, Mike sat with me in the car & went through every feature on my Accord, pausing for my every question & allowing me to interact hands-on as we progressed. As awesome as the car is, at the end of the day, I made the deal with Mike, because of Mike – he earned, & retained my trust. I would be remiss to not mention Alejandro Botello, who handled the paperwork in the financing office; another great guy who is pleasantly personable & just simply – professional. I am beyond ecstatic with my brand-new Honda & can't say enough about all the staff that I encountered from initial contact, to driving off the lot. I drove 2 hours each way; the latter segment being the most enjoyable! Thank you, Michael Lopez & Winter Haven Honda, for a great deal to put me behind the wheel of my truly stellar 2019 Accord! I'll be back! P.S. - Really appreciate the Veterans reserved parking - Thanks Joe Wagner (Owner)!
I found the car I was looking for on the internet and Mike Davis responded. We went to see it and he offered an alternative we liked better. He got us a better trade price for our old car than Regal Honda and came down on the price of the 2018 EXL that had the features we preferred. We were very pleased with the outcome and love our new car.
Went in expecting to just do a test drive.Our salesperson,Rodney offered a few suggestions and we walked out an hour later with a great car with a great deal! Rodney was professional,gave us his undivided attention.He was knowledgeable and anything he couldn't answer,he found someone who could.He was friendly and did not try to push us into anything .We were up front with what we wanted,what we had and he worked with that. Everyone we met at the dealership had a smile and said hi. We never once felt pressured.Even in the business office where they try to talk you into service warranties and select packages,there were no high pressure tactics. One of the top dealership experiences i have had.Highly recommend!
Our 2018 Honda Accord broke down on I-4 while traveling home on Sunday. We had it towed to Winter Haven Honda. The service department was closed that day but the Sales department was opened. We were stranded until Monday so we made a hotel reservation in town. We still had no way to get to the hotel with our luggage. That's when George Menendez from the sales department came to our rescue. He was kind enough to drive us into town to our hotel. We are very grateful for that. Thank you George. George Bailey in the Service Department was very helpful the next day also. He sent a courtesy car to pick us up and explained what was going on with the car. We got the car back on Tuesday and it's working fine. Thanks guys!
George customer service was superb. He was polite and professional the entire time. I couldn't ask for a better sales rep. I highly recommend George.. George helped me find the perfect car. From walking through the door to leaving with my new vehicle he was great. He communication throughout the process and made sure we were comfortable. I got a brand new car for a great price. The whole experience was excellent.

Welcome to Winter Haven Honda
New & Used Honda Vehicles In Winter Haven, Florida
Explore Winter Haven Honda's Inventory near Lakeland & Kissimmee
Winter Haven Honda is Winter Haven, Florida's new and used Honda dealership that proudly serves the drivers of Lakeland, FL and beyond. We offer upfront, competitive pricing on all of our Honda vehicles and services, which eliminates the need for haggling and encourage you to to make the short trip over from Kissimmee to get your new Honda CR-V search started today! Our helpful Honda sales team will introduce you to a variety of vehicle options like a new Honda Civic Sedan and can get you set up for a tour and test drive.
If you are interested in exploring your auto loan options, then contact or drop by our finance department. Car buyers with less than perfect credit or no credit are welcomed to apply for financing as well! When it is time for your Honda Accord Sedan or other Honda to come in for tire service, wheel alignment or a brake job, make an appointment with the factory-trained technicians here at our service department! At Winter Haven Honda, we offer a complete car buying experience that is tailored to your needs and budget. Experience the difference we can make for you by shopping our full-service Honda dealership near Kissimmee, FL today!
Get Directions To Winter Haven Honda