Benefits of Servicing your Vehicle at a dealership – Winter Haven Honda
Your car is your most precious possession, and you'll want to preserve it for as long as possible, naturally. That's why it's important to take it to a reliable service center for maintenance tasks, repairs, and other procedures. Winter Haven Honda has a full-service automotive repair center available for your servicing needs. You should think twice before you choose a local shop or franchise to work on your vehicle. Here's why Winter Haven Honda's service department is the best place to go:
Service Specials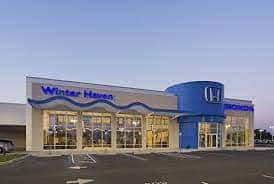 All of Winter Haven Honda's customers have access to beneficial service specials and discounts. You can enjoy getting a certain percentage taken off of your regular maintenance tasks so that you can keep your car in tip-top shape at all times. You'll find discount opportunities on services such as transmission fluid changes, drive belt replacement, fuel system services, timing belt replacement, and more.
Top-Rated Dealership
Winter Haven Honda is a top-rated dealership. The dealership has won many accolades and has a wealth of positive reviews from satisfied customers. It's always best to visit a highly-rated establishment when you want the job done correctly. You can feel confident that the mechanics will do the best they can to keep your vehicle running smoothly and avoid breakdowns. The specialists can perform a variety of processes, such as maintenance tasks, diagnostic tests, small repairs, and large repairs. They may even have the wherewithal to perform tasks that aren't on the list, such as installations. You can reach out to these specialists at any time to discuss your very specific needs.
Positive Reviews
Another reason to choose the service center at Winter Haven Honda is that you'll know you're getting excellent service all the way across the board. All you have to do is read some of the consumer testimonials to know how trustworthy and experienced the mechanics are. You'll get a good idea of how well the customer service team performs as well. Some customers attest that the sales staff is outstanding. Other clients attest that they received amazing service on their vehicles. There are many five-star reviews and glowing testimonials for you to review before you contact the provider.
Convenient Hours
You may want to contact Winter Haven Honda because of the convenient hours it offers in the service center as well. The owners know how important it is to get automotive service when you need it. They also know that sometimes clients need to obtain the service before work or after work. That's why they created a service schedule that would work perfectly with just about anyone's schedule. You can bring your car in for service early in the morning before work, or you can bring it in after your workday is completed. There's even an opportunity for you to come in on the weekend if you're off during those times. Furthermore, you'll have the option to use a highly convenient online service scheduling tool to set your service dates. You don't have to talk to anyone on the phone if you don't want to, and you don't have to leave your home. You can simply go online and choose the most convenient time to visit.
Extraordinary Customer Service
Finally, you'll get the benefit of an award-winning customer service team that puts the customers first when it comes to automotive care. These friendly and compassionate specialists will ensure that you get all-around service and your day is bright. What more could you ask for? It would be a wise idea to reach out and schedule your service sometime soon. Once you experience the joint effort of the Winter Have Honda team, you'll want to visit the service center for ll your future needs.
Schedule Your Service Winter Haven Honda Today
The team at Winter Haven Honda is ready for you to reach out to schedule your automotive service needs. There are three methods you can use to talk to someone about services. You can use the online scheduling system. You can call on the phone or use the convenient chat system to answer your questions and concerns. Expert mechanics and parts specialists are waiting to hear from you and are eager to assist you with your issue.